Are you looking for advice from a dentist in Leeds about keeping your mouth healthy? Brushing your teeth can often seem like a chore, so anything that makes the job easier has to be worth considering. Many people swear by their electric toothbrushes, but are they really any better than manual toothbrushes? There's little doubt that these high-tech brushes are growing in popularity, and they can be extremely useful for some people. As to whether or not they're necessary, that's a bit of a different matter.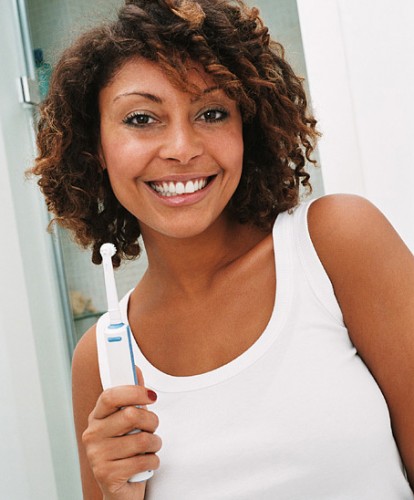 Manual toothbrushes can be every bit as effective as electric toothbrushes, and it's all a question of how often they are used, and brushing technique. If you have excellent technique and are vigilant about flossing then you'll do just fine with a manual toothbrush. However electric toothbrushes can be extremely useful for anyone with limited manual dexterity, for example people with arthritis or for anyone who has some other problem that limits the use of their hands.
In addition electric toothbrushes can include a number of quite useful features, one of which is a built-in timer. You need to brush your teeth for approximately 2 minutes each day, but it's all too easy to overestimate how long you've actually been brushing for. An electric toothbrush takes the guesswork out of this, but on the other hand it's just as easy to put a small clock or timer in the bathroom.
The heads of electric toothbrushes also tend to be quite a bit smaller than conventional brushes, and this can make it a lot easier to reach right to the back of your mouth. If you prefer using a manual toothbrush, to make sure its head is small enough to reach all the areas in your mouth, or you may even want to think about buying a child sized toothbrush. Whichever approach you prefer to use, it's important to make sure your technique is the very best they can be, and this is where Leeds City Dentalcare can really help. Just ask Dr David Brown, your friendly dentist in Leeds, or any of our dental team for advice and perhaps a practical demonstration on how to brush and floss as this is something we'll be more than happy to discuss with you. Another thing to bear in mind is that it's important to replace your toothbrush regularly, regardless of whether it's manual or electric.
Caring For Your Toothbrush
Most people will need to replace their toothbrushes once every two or three months, but some people might need to do this more frequently so if you notice the bristles splayed or worn then it's time to get a new one. Caring for your toothbrush will make sure it remains hygienic throughout its lifetime, so make sure you rinse it thoroughly under clean running water once you finished brushing to remove any excess toothpaste and food particles. It's best to place it in an upright position to dry, and make sure that air can circulate freely around it and that it isn't touching anyone else's toothbrush. It goes without saying that it's best to keep your brush for your own use only, as otherwise you will be sharing bacteria with other people.
Lastly, the habit of using a toothbrush is nothing new as it dates back to the Middle Ages. At that time the cost of the brush was so expensive that whole families would share the same toothbrush. Luckily nowadays a decent toothbrush can be purchased extremely cheaply.