Many babies and young children find comfort in using a dummy, and just as many parents or caregivers are probably in the habit of licking the dummy whenever it's dropped on the floor, before giving it straight back to the child. This isn't really the best way to go about things, as studies have shown that the bacteria responsible for dental decay can be transmitted to your child. Contrary to belief, merely licking or sucking the dummy before giving it back to your baby will do absolutely nothing to get rid of the germs, but will add some more of your own.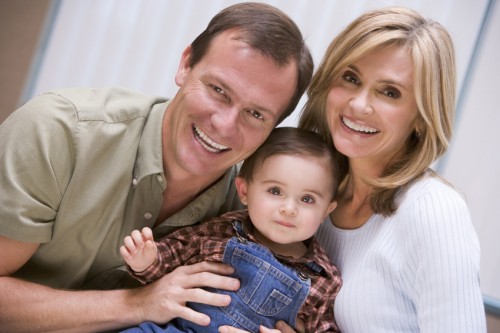 Babies are born without any of these harmful bacteria in their mouths, but studies show that mothers typically infect their children before the age of two. However it's something that can be just about impossible to avoid, as most parents will have eaten from the same spoon as their baby, and of course every adult wants to kiss their child and to ensure they know they are much loved. The problem is that if you have cavities, or are prone towards developing tooth decay, then you're passing these bacteria straight onto your child. Once these bacteria are able to colonise your child's mouth, then it's likely he or she will be prone towards developing cavities too. Some people think that having poor teeth is something that is down to genetics, and while that may be partially true, it's also down to whether or not the parent has high levels of decay causing bacteria.
Make Sure Your Mouth Is Clean and Free from Disease
So what can you do? Probably the best thing to do is to make sure your own teeth and gums are well cared for through visiting Leeds City Dentalcare at regular intervals for check-ups and professional cleanings with Dr David Brown or another of our dentist in Leeds. If you do have any signs of cavities, then these can be treated and filled if necessary and regular cleanings will help remove much of the bacteria that make their home in your mouth. Making sure you have great oral hygiene at home will also help tremendously, and of course it's the perfect opportunity to get your young child into the habit of having their teeth cleaned twice a day.
It's not all bad news, as some experts believe that swapping germs with your child could help to strengthen their immune systems, and may even help prevent them from developing certain allergies. A recent study found that parents who cleaned dummies in this way had children who were significantly less likely to develop eczema, one of the most common allergies there is. It's true that babies need to be exposed to a certain amount of bacteria, viruses and other organisms in order for their immune systems to develop and mature, and if it doesn't happen within a reasonable period of time then their system may overreact to harmless particles, something that can lead to allergies. Some people believe that we now keep our homes excessively clean, and that young babies' immune systems may not be exposed to some of the organisms necessary for their development.
This might all sound very confusing, but perhaps the best way to approach it, is to make sure your oral health is the best it can be so you're not passing on any excessive amounts of bacteria to your baby, and to try to clean the dummy under running water whenever possible. If you're then caught short out shopping, and are faced with the prospect of an unhappy baby or sucking the dummy yourself, then at least you know you can do so with a reasonable amount of confidence.