A person's smile is very individual, and people have very different ideas as to what constitutes a beautiful smile. Some feel that teeth should look natural, but perhaps a little whiter, while others feel that teeth should be perfectly straight and even, or that the shape of their teeth needs altering. Others are even unhappy about their gum line, and may feel that they show too much gum when smiling, or that it looks uneven. These are all things that can be corrected through having cosmetic dentistry in Leeds, but how do all these treatments work?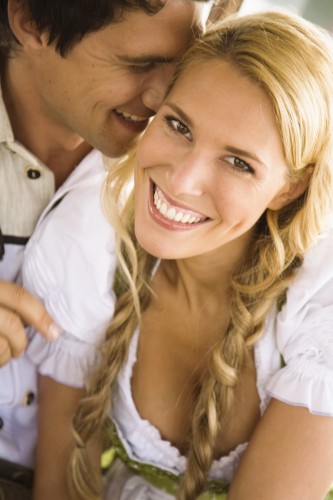 Teeth Whitening
This is one of the most commonly requested cosmetic dentistry in Leeds City Dentalcare, and we supply patients with custom-made whitening trays for use at home. We feel this is the most effective and gentle way of whitening teeth, and it achieves very good results within just a couple of weeks.
Dental Bonding
Dental bonding can be used to repair minor imperfections in teeth, for instance a chipped front tooth can be bonded with composite resin and can give very good results in just one visit. This is the conservative and cost-effective treatment.
Replacing Old Amalgam Fillings
Replacing amalgam fillings with more cosmetically pleasing composite resin fillings can lift a smile with minimal cost. If your fillings have been in place for several years then it's likely they're coming to the end of their natural life and would need replacing anyway.
Porcelain Veneers
Porcelain veneers are an extremely popular cosmetic dentistry treatment and to cover the front surface of the tooth, replacing a very thin layer of tooth enamel. They can alter the size, shape and colour of the tooth and can be used to restore areas that have been worn down, creating a more youthful smile.
Porcelain Crowns
Porcelain crowns can be used to replace larger areas of tooth structure that may have been lost due to trauma or due to decay. Crowns are used when there's not enough tooth structure to support a filling or other type of restoration, and they cover the entire tooth. In today's all ceramic porcelain crowns look extremely good and maybe recommended by our dentist in Leeds for anyone who is looking for the very best cosmetic dental results.
Orthodontic Treatment
Orthodontic treatment is often requested to correct the appearance of teeth, and today's orthodontic systems can gently and effectively move the teeth into the correct position. Even better, most are quite invisible so there's no need to worry about wearing a mouth full of metal. Some orthodontic braces are more cosmetically oriented than others, and they only concentrate on moving the teeth that are visible whenever you smile or speak to others. In spite of this, any thoughts of orthodontic treatment is likely to have a beneficial effect on your oral health, as you should find it much easier to clean your teeth properly.
The list above is a pretty comprehensive but not complete, as missing teeth can detract from a smile. Dr David Brown is able to replace lost teeth with dental implants, and if you've lost teeth then this is a treatment that's well worth exploring.