Are you flossing every day, or is this something you only do when you can feel you have something stuck in between your teeth? If you fall into the 'only floss when you have' to category then you are missing out on an easy way to help keep your gums healthy and free from disease, and on reducing your risk of tooth decay. Our dentists at Leeds City Dentalcare are all too well aware that flossing can seem like a thankless task, but it is important, and not just for removing pieces of food that are big enough to feel uncomfortable.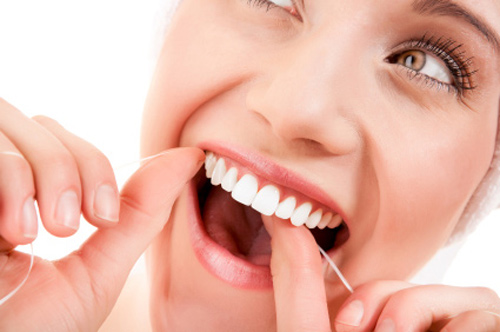 Next time you feel like skipping the flossing, just stop and think about the fact that these areas account for approximately a third of all the surface area of your teeth, and there is simply no way your toothbrush can do a thorough job in these contact areas. It is tempting to think that if there doesn't appear to be anything stuck then these areas must be clean, but that is far from the case. The contact areas are prime breeding grounds for plaque bacteria that gradually form a sticky layer over your teeth during the course of the day. By the end of the day, before you clean your teeth at bedtime, you might even be able to feel this layer simply by running your tongue over your teeth. Plaque bacteria can infect the gums, causing inflammation and irritation that can eventually lead to severe periodontal disease (gum disease), and which could even mean you lose teeth. When you consider that flossing only takes a few minutes to complete each day, it seems like a small price to pay.
Don't Know How to Floss? Ask Us for a Quick Demo
Flossing is simple once you have the right technique, but perfecting it can take a bit of practise. If you are unsure of how to floss then Dr David Brown, a friendly dentist in Leeds, would be more than happy to show you how to do it, and can provide you with lots of tips and tricks to make the task easier. Your dental hygienist is also a great source of information, and can help suggest the right thickness of floss and the right type of floss for your needs. Most people make the mistake of trying to be too stingy with the dental floss, when you really need a length of approximately eighteen inches to do the job properly. The reason you need such a long piece is to make sure you have enough room to use a fresh section for each tooth, so that you are not simply moving debris and plaque from one tooth to the next. Experiment with ways of holding the floss so it is easy to slide it in between each tooth, as you need to be able to slide it right down to the gum, and just below the gum line to clean this area thoroughly.
If you really can't get on with floss then there are other things you can try. Alternatives include interdental brushes, floss threaders, and water or air flossers. These can be ideal for anyone who isn't able to move their fingers very freely, or who simply struggles with floss. They could also be good for anyone whose teeth are tightly packed in, making it near impossible to insert a piece of floss in between each tooth. The main thing is to ask our dentist in Leeds for help, as patient education is very important to us.