Your baby's first tooth is definitely a milestone worth marking, but the transition from a gummy smile to a mouthful of lovely white teeth can take quite some time to complete. Some babies seem to sail through the whole teething process without experiencing any symptoms while others may exhibit signs of discomfort. Typical symptoms of teething include:
Drooling which may mean they develop a facial rash
Sucking or biting on toys or their fingers due to the pressure in the gums
Your baby's gums may look swollen or sore
Your baby may be more reluctant to feed
They might have more difficulty getting to sleep than normal
They might simply seem out of sorts and may cry more than normal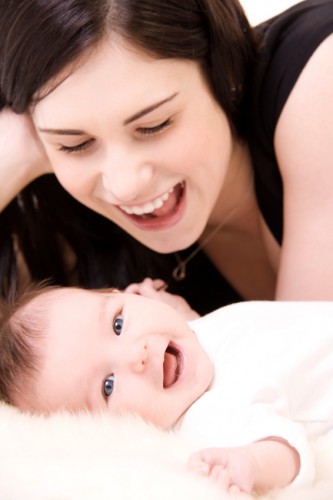 Most symptoms of teething will soon disappear once the tooth breaks through the gums, but if you notice other signs, such as diarrhoea or fever, then it is worth contacting Leeds City Dentalcare for advice, or you should speak to your family doctor. It might also be worth doing this if teething seems to be making them particularly uncomfortable.
Things to try when your baby is teething include:
Giving them a chilled teething ring as this can help to relieve some pressure on the gums but don't use anything that is frozen as this could be harmful
You could also try applying gentle pressure to your baby's gums using a clean finger or a moistened flannel, just for a couple of minutes
Some babies find a bottle is comforting, but it's best to make sure it doesn't contain a sugary substance such as formula or juice that might damage the new teeth and to stick to just plain water
Making sure you try any drool before it can cause a rash will help keep them comfortable
If they seem in pain then using age appropriate painkillers might help
It's also possible to buy various remedies and gels that can be applied directly to your baby's gums. Some experts feel these remedies aren't particularly effective, so if you'd like further advice on which products may work then contact our Leeds surgery.
Looking after Your Baby's First Teeth
It's important to look after these first teeth, and to clean them thoroughly twice a day using a soft baby toothbrush. Initially you can clean them using just plain water, and it's best to ask Dr David Brown or another of our dentists in our Leeds surgery when you should begin using toothpaste. At this stage you can book your child's first appointment with Leeds City Dentalcare.
Your Baby's First Dental Appointment with Leeds City Dentalcare
You might think this is a little early, but there are some very valid reasons for bringing your child to see us so soon in their life. It's a great opportunity for our dentists to check your child's teeth and jaw are developing normally, but is also your chance to ask us lots of questions on how to care for your child's teeth and how best to keep them free from disease and cavities.
By bringing your baby in to see if this soon they'll quickly get used to the idea that dental care isn't anything to be afraid of. Our dentist in Leeds and nurses work hard to put young children at their ease to and will do everything possible to make sure they feel comfortable during examinations. Receiving dental treatment this early will help ensure your baby doesn't grow up with any dental fears or phobias that could prevent them from receiving essential treatment in the future.