Did you floss your teeth last night? Unfortunately we know the answer for many people will still be no, and this is in spite of numerous studies that have shown the importance of doing so. Flossing is vital for removing plaque and food particles that can become trapped in between your teeth, and it's really the only way to reach these areas that are inaccessible by a toothbrush. We know it's not fun, and it can seem like a real chore at the end of the day, but it is worthwhile doing so as otherwise you're much more at risk of developing gum disease.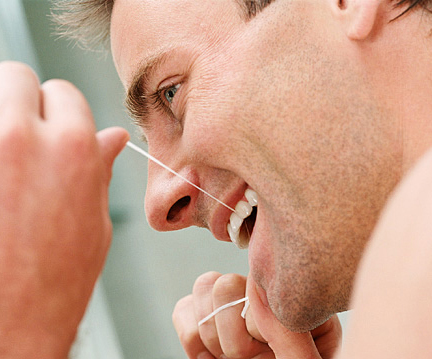 Gum disease has been linked to numerous other diseases, and just recently to independent studies carried out in the US has revealed that a certain type of bacteria associated with gum disease could increase the risk of colorectal cancer. This is the second most common form of cancer in the world, and it's more prevalent in developed countries. In the past scientists have studied mice, and found that bacteria in the gut, which can include species found in the mouth, could promote the development of colon cancer. Over the past two years studies have looked at biopsies from human colons, and have found that a particular microbe called Fusobacterium in healthy tissue right next to colorectal cancer. This particular bacterium begins life in the mouth, and is often associated with gum disease. However these early investigations didn't discover any evidence of this bacterium in the tumours. As a result scientists carried out new studies to look at earlier indications of colon cancer, and interestingly they found the bacterium in the beginnings of tumours. Although these tumours may start off as benign, they are often a precursor of colorectal cancer and can become malignant.
Research is now on-going to prevent Fusobacterium from growing, and this could help treatments for oral diseases and for colon cancer. In the meantime it is necessary to floss daily, even if you hate doing it. This is something that we can help you with, so if you find flossing painful or even merely uncomfortable then ask our dentist in Leeds City Dentalcare for help.
Hate Flossing? It's Worth Persevering
We have lots of techniques to make this job easier and far more effective, and if you really can't get on with dental floss then think about trying an alternative method of cleaning in between your teeth. Next time you're in your local chemists take a look in the oral care section, and you'll probably see a variety of different interdental brushes that come in different widths, and some have angled handles. These are designed to fit in between your teeth, and can clean these areas extremely effectively. Alternatively you may want to think about splashing out on your dental care with the purchase of an electric air or water flosser. This device is perfect if you have limited use of your hands, or if you don't have too much manual dexterity. These devices can also get the job done relatively quickly and very effectively.
Some people think it's not worth flossing, and that simply brushing your teeth is enough. This fails to take into account that the contact areas in between your teeth represent approximately one third of all your tooth surfaces. In addition, Dr David Brown and all the dentists in our Leeds surgery can always tell the people who floss and the people who don't, as their gums are likely to be significantly healthier.