Have you looked in the mirror recently and thought your teeth looked longer than before? If so then you may have gum recession. This is where the gum tissues around your teeth begin to pull back or to pull away so that more of the crown of the tooth is exposed. Eventually this recession may expose the root of the tooth. This recession can create pockets around the base of the tooth as the gum tissue become loose, and you may notice dark triangles appearing in between the teeth in areas that were previously filled with gum tissue.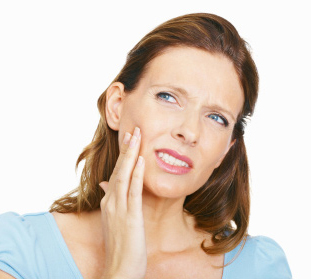 Gum recession is something that can take place very gradually, and one of the first signs that it is occurring can be noticing your teeth seem extra sensitive whenever you eat or drink hot and cold foods, and this is a common symptom amongst patients at Leeds City Dentalcare.
What are the Common Causes of Gum Recession?
Receding gums are often a sign of some underlying problem, in particular gum disease. Healthy gums are pink in colour, and should feel firm when you touch them. They may look slightly stippled like the surface of an orange. Unhealthy gums will look slightly swollen, and may appear to be a darker colour than before due to bacterial infection. This infection can destroy the gum tissue, the ligaments holding your teeth in place, and even the surrounding bone.
Gum recession may simply be down to your genetics, as some people are unfortunate enough to be more susceptible towards developing gum disease than others. If you have a family history of gum disease or tooth loss, in spite of good dental care, then it may be worth your while contacting Dr. David Brown or another of our dentists in Leeds for advice.
Brushing your teeth too aggressively can eventually wear away the gum tissue, and it may cause the enamel on your teeth to erode. You don't need to brush your teeth very hard to remove the soft layer of dental plaque that builds up over the course of each day.
Poor dental care can also result in gum recession, as failing to remove dental plaque each day will allow it to harden into a substance called calculus or tartar. This is very hard and can only be removed by having your teeth professionally scaled by your dentist in Leeds.
Women may be more susceptible towards receding gums due to hormonal changes that take place throughout the course of a lifetime. Hormonal fluctuations during puberty, the menopause and during pregnancy can increase the sensitivity of the gums towards plaque bacteria, and may also increase the body's reaction towards infection, which will increase the amount of inflammation. Much of the destruction caused by gum disease is due to inflammation.
Smokers are more likely to get gum disease and smoking increases the risk of dental plaque building up on the teeth and gums. Smoking also makes it harder for the body to fight off any infections such as gum disease.
Teeth grinding or clenching your teeth can also affect the gums as it places additional pressure on the gum tissues.
If your teeth are wonky and don't meet together evenly than this can create additional pressure on certain teeth, causing the gums to recede.
Leeds City Dental care offers treatment for gum disease and for other conditions that can create gum recession. If you think your gums may be receding than it's worth booking a dental check-up at our Leeds surgery so we can work out a treatment plan to help stop the recession and return your gums to health.