Scientists have produced a new type of toothbrush using a 3-D printer, and it's been claimed that it is capable of thoroughly brushing your teeth in less than 6 seconds. It utilises the same type of technology used to fit braces, and each toothbrush is individually created to exactly fit your mouth. The appliance looks almost like a mouthguard and contains lots of interdental bristles that are angled to reach along your gum line.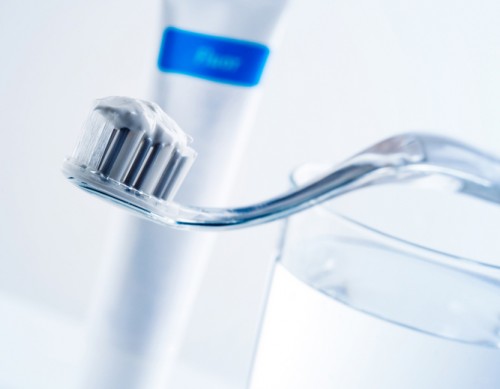 You then have to use special techniques to bite and grind against the appliance for approximately 6 seconds. The makers claim this is sufficient to clean your teeth, and that's it is equal to 3 minutes of brushing time with a manual toothbrush. They also claim that it will help ensure the whole mouth is cleaned, as many people to miss certain areas of their mouth when brushing. It even has little slots for floss threading as it's been claimed you can floss your teeth and clean your tongue all at the same time as brushing your teeth. This brush does rely on users following very specific techniques and movements. Like all the alternative methods of tooth cleaning, if these are not followed then this brush is likely to be no more effective than something a lot cheaper.
Not surprisingly some experts are sceptical and point out that more research is needed, and that good technique is everything. This brush is not cheap either as it costs approximately £250 for a toothbrush that is supposed to last a year. The manufacturers do point out that subsequent brushes will be much cheaper, but it's still a huge outlay when you consider a good manual brush can be purchased for just a few pounds.
Preventative Dental Care Is Important to Us
Dr David Brown and all the dentists at Leeds City Dentalcare take preventative dental care very seriously, and we always encourage patients to ask questions about how they can improve their daily brushing and flossing techniques. If you'd prefer not to spend so much on a toothbrush then we can show you how to brush properly to get the most out of your manual or electric toothbrush. We know lots of people also hate flossing, but there are lots of things that can be done to make this task easier and more effective, just ask your dentist in Leeds for a practical demonstration. We can't show you techniques that will clean your teeth thoroughly in just a few seconds, but we can show you how to make sure you clean all the surfaces of your teeth in just a couple of minutes.
It is important that you take the time to brush your teeth and floss each day, as otherwise you are at risk of developing gum disease. This common condition is often responsible for tooth loss, and is one of the main reasons why dental implants in Leeds are so popular. We'd prefer to help you retain your natural teeth for as long as possible, and preferably for your whole lifetime.